It could happen tomorrow.
A cataclysmic event.
An army of "The Changed."
How can one teen survive on her own?
–2011 VOYA PERFECT TEN
–2011 PA SCHOOL LIBRARY ASSOCIATION YA TOP 40 TITLE
–2012 YALSA TOP TEN TEEN NOMINEE
–2012 YALSA BEST FICTION LIST NOMINEE
–2012 FLAMINGNET TOP CHOICE AWARD WINNER
–2012 OUTSTANDING BOOK BY A WISCONSIN AUTHOR
–2012-2013 SOUTH DAKOTA YOUNG ADULT READING PROGRAM BOOK AWAY MASTER LIST TITLE
–2013 ALA QUICK PICK FOR RELUCTANT READERS FINALIST
–2013 TAYSHAS HIGH SCHOOL READING LIST
–2013-2014 GATEWAY AWARD FINAL NOMINEE
–2013 MILWAUKEE COUNTY TEEN BOOK AWARD NOMINEE
–2014 OKLAHOMA SEQUOYAH BOOK AWARD NOMINEE
–2014 ABRAHAM LINCOLN HIGH SCHOOL BOOK AWARD NOMINEE
(Hardcover)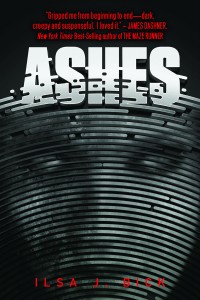 (Paperback)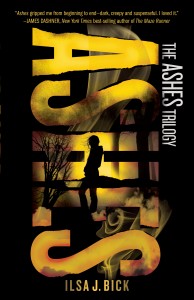 PRAISE FOR ASHES
"Gripped me from beginning to end–dark, creepy, suspenseful. I loved it."–James Dashner
"A haunting epic story of survival in a shattered world. ASHES is a must read."–Michael Grant
"Bick delivers an action-packed tale of an apocalypse unfolding, launching a trilogy with flair."–Publisher's Weekly
"Splendidly paced apocalyptic zombie horror ends with a thrilling, terrifying cliffhanger."–Kirkus Reviews
"If Cormac McCarthy and Justin Cronin bore a lovechild . . . Ilsa J. Bick would be their bouncing baby girl."–randomactsofreading.com
"Bick has written a thriller of a post-apocalyptic novel."–Ingram's
"…(a) thoroughly unputdownable story with an off-the-charts creep factor."–Romantic Times
"…a harrowing apocalyptic survival tale that brims with true horror … No one's survival is guaranteed here."–Locus
"…an impeccable sci-fi/horror balance, quick pace, and risky storytelling…"–BCCB
"Bick takes the best of post-apocalyptic, zombie fiction…and adds the exact thing that has been sorely lacking from those genres: girl power… a real girl with brains and heart, just trying to survive in a world that is out to eat her alive."–VOYA
"In some cases, authors are daring enough (or heartless enough, depending on your tolerance for sad endings) to let their protagonists face seemingly insurmountable obstacles and find that they are, indeed, just that. The shocking conclusion of Ashes by Ilsa J. Bick is one of the coolest new examples of this…"–Horn Book
Order Your Copy Today!