NOW OUT!
BROTHERHOOD PROTECTORS
SOLDIER'S HEART: PART ONE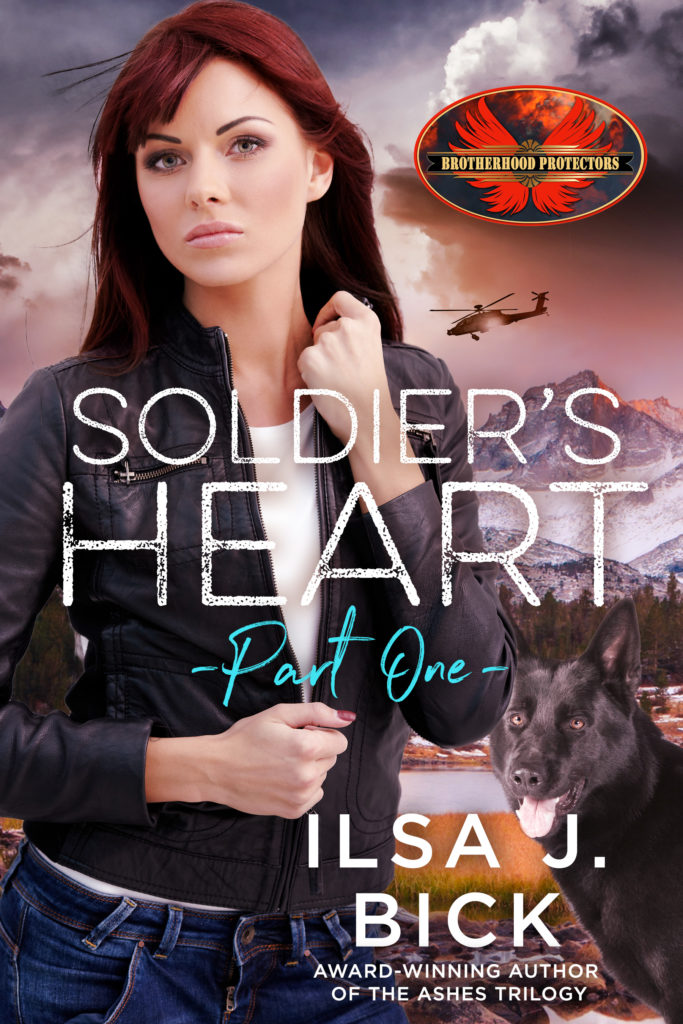 Every Soldier is Haunted…
Crackerjack Army medic Kate McEvoy volunteers for Bravo Company's final mission to a remote village in Afghanistan. All soldiers know last missions are jinxed, but despite Captain Jack Campbell—her CO and would-be lover—asking her to stay behind, Kate is intent upon putting Afghanistan in her rear view. For Kate, going home—finally being with Jack—is all that matters.
Except for one shot…and then everything changes. When Kate wakes up, there is no Jack. No happily ever after. Her body is shattered, in pieces. She's got nothing much left, and even less to live for—until the day a colonel from a top-secret DARPA project offers a new mission she'd be batshit crazy to refuse.
Some Wounds Can't Be Seen…
Veterinarian Sarah Grant had it all—a fairy tale life of wealth, beauty, and smarts—until two years ago when Peter Cooper, an Army dog handler and the love of her life, was killed in action in Afghanistan. Desperate to hang onto Pete, Sarah adopts his military working dog, Soldier. Plagued by PTSD, though, Soldier's a wreck—and without Pete, so is she.
Looking for a place the severely damaged dog can heal, Sarah moves into a decommissioned fire lookout tower near Montana's Black Wolf Wilderness and works at training Soldier in search and rescue. What she can't admit to herself is she's also searching—for a new life, new purpose—and that Deputy Sheriff Hank Cooper just might help rescue her damaged heart.
And Not Every Wound Heals…
Former Army MP Gabriel Dane has lost his way. Haunted by the team he left behind in Afghanistan, now broke and out of options, he risks everything on a treacherous trek through the Black Wolf to Dead Man, a remote peak that lives up to its name. Maybe he'll make it out, maybe he won't. He doesn't much care.
Finally exhausted, out of supplies, and on his last legs, he meets a mysterious woman named Mac. Also ex-Army, Mac's insanely strong, a little spooky—and much more than she seems.
SOLDIER'S HEART: PART TWO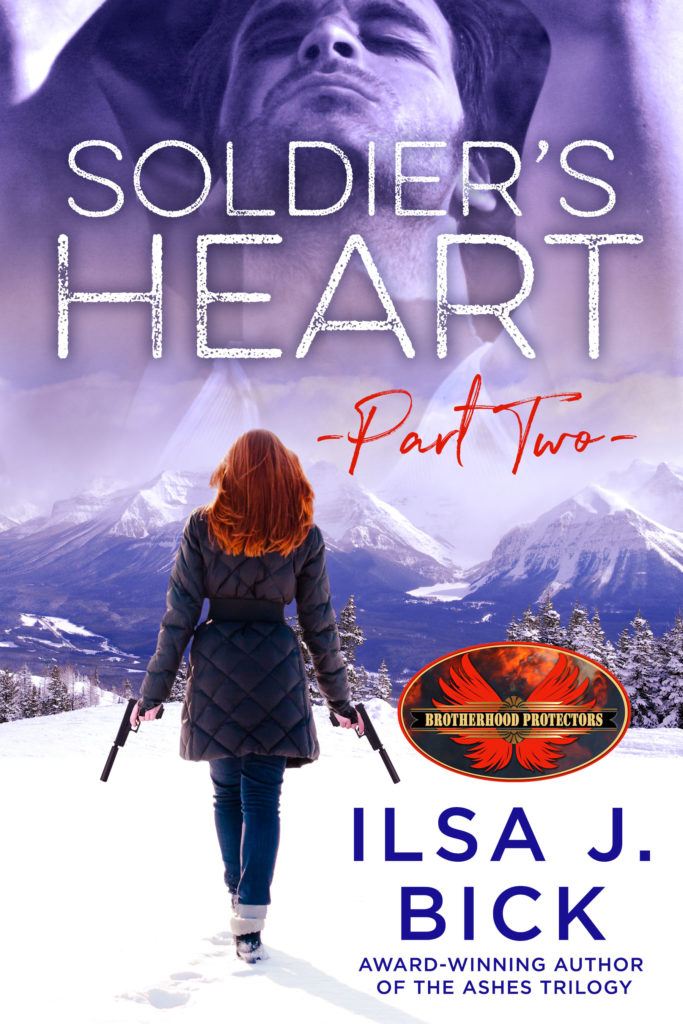 Everyone Has A Secret . . .
When gunfire jolts former Army medic Kate McEvoy from a nightmare of her last, disastrous mission in Afghanistan, she discovers Gabriel Dane, an Army MP she befriended in the Black Wolf Wilderness, has disappeared.  Gabriel is AWOL, depressed, and out of options.  Fearing the worst, Kate sets off in the middle of a freakish, early-season snowstorm to find him—even if this means bringing out Gabriel's corpse.
She's also curious about just how far she can push herself.  A test subject for a top-secret DARPA program, Kate is a prototype, with a rebuilt body and a brain crammed full of nanocircuits and biobots busily rewriting her neural pathways.  Kate knows she's changing in ways her DARPA masters never intended and don't suspect.
And if they catch on to what she's becoming, they'll never let her go. 
And Two Can Keep A Secret . . . 
There's gunfire somewhere in the Black Wolf.  For the time being, there's nothing Dr. Sarah Grant or Deputy Hank Cooper can do.  Along with Sarah's dogs, Soldier—a traumatized ex-MWD, who once belonged to Sarah's dead lover—and Daisy, they'll wait out the storm in the Chaney Peak fire station.
Not a terrible prospect.  Sarah never has thought of Hank, who's also Pete's older brother, as anything other than a true friend.  Except she now wonders if Hank might not want more.   Or is it that she does?  Because maybe Hank is right.  Like Soldier, Sarah's obsessed with the past, always looking over her shoulder, using Pete's ghost as a shield.  Maybe time for her to let all that go, and she thinks she'll do just that . . .
Until the moment Sarah happens on photographs she's never seen—and realizes everything she always believed about Pete is a lie Hank's been happy to keep. 
If One Is Dead . . . 
Kate is a lone wolf, but she's never alone.  Jack Campbell—or what passes for the man she loved—lives in her mind and at the tail of her eye.  She hears him.  At times, Jack is so there she feels him.  Tastes him.  Wants him.  Created by her enhanced brain, Jack is the ghost in her machine: a phantom whose power only grows . . .
And one which may have plans of its own.